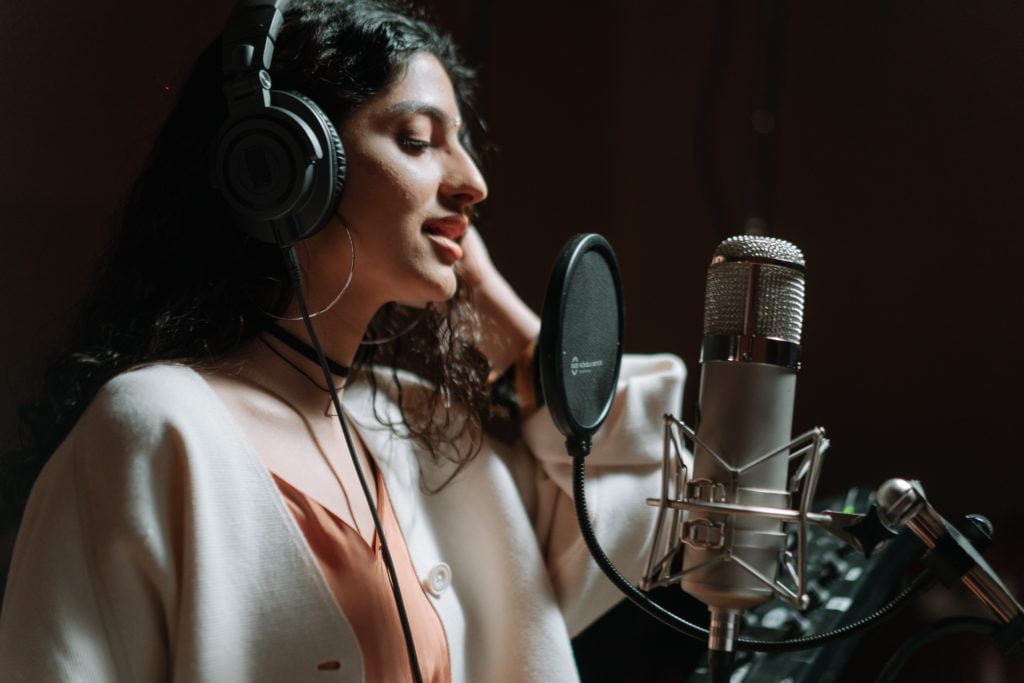 Do you want to become a voice-over actor?
The voice-over marketplace is booming with passing time. Needless to say, there are different types of voice-over jobs you can find online. There are plenty of projects, facility to choose flexible working hours, and often the opportunity to work from home- all you need to thrive during the persistent pandemic crisis.
If you have a lovely voice, it is just the beginning of a long path to enter the professional world of voice acting and dubbing.
The command over speech and accent, ability to choose the projects based on your voice-over skillsets ie how good is your vocal range and voice texture, and a professional attitude, are some aspects to succeed in this business.
In this concise guide, we have provided the required information you may need to start a career in voice-overs.
Basic Requirements
The clear voice which should not tired easily.
Command over various types of voice modulations, Great observation skills.
While these are the primary qualities a VO artist must possess, you can acquire them at a voice-coaching course.
Do you have a deep brassy tone?
With a bit of training and polished talent, you can be an ideal fit for projects that require deep voice overs. The deep impactful voices are much in demand nowadays, especially for documentaries and feature films.
VO-Artists Job Roles, Responsibilities, and Career Prospects
In simple words, the prime task of a VO actor is to create an audio recording of a written script by adding soul to the words.
After completing a diploma or certificate course in learning technical aspects of sound, it is easy for the candidates to offer Indian voice-over services such as dubbing films, TV shows, animation features, etc.
You may also get a chance to start a career in audiobook recording, do non-fiction projects such as documentaries, e-learning programs, corporate videos, etc. also in storybooks that are converting into audiobook format.
The professionally trained VO-artists having excellent command over multiple languages have widespread opportunities to find projects from prospective international clients from the USA, UK, Canada, Australia, and other part of the world. The demand for excellent voice-over talents is rising day by day.
Expected Remuneration
Now it's the turn to know how much money you can make working as a VO artist.
The pay package for voice-overs may vary from one project to another depending on several aspects- client's budget, project size, type of vo work, etc.
However, you can expect a decent pay slab for every project. As per the current industry standards, you may receive remuneration of about 5000-10,000 INR as a fresh talent for mid-sized voice-over jobs.
At present, the established VO actors with a strong portfolio earn over 50,000-100,000 INR or even more every month. Voice talents are not only earning for the time they spent in the studio but they are also getting paid for the voice-over usage rights as a royalty for a specific period of time, therefore the earning from voice-over projects are endless it could be 50k for a single voice over a job that includes broadcast usage fee as well.
Voice-Over Work from Home
Post-2020, almost everyone is looking for a career that allows them to work remotely. Fortunately, you can also take up a freelancing project.
Herein is a list of things you need to start voice recording at home:
Home Recording Studio- If you have a small room available at home, it's a great idea to use the space to set up a recording studio. However, it requires some carpentry work to do soundproofing in the room. This is necessary to create high-quality audio while eliminating external noises.
Microphone- Choosing a microphone can be tricky. It depends a lot on the type of voice you have. It is worth checking the audio output quality with different microphones to find the one that matches your voice pitch.
Mixer- This is a small but significant device that allows you to plug in the XLR cable of your mic to your computer system.
Headphone- A comfy headphone allows you to focus on voice quality. It helps you to track if the mic is catching any unwanted sound and also to monitor the perfect mixing of the vocal and soundtrack added in the background.
A Recording software program (Adobe Audition, Audacity, Pro Tools, etc.)
It may take some time and investment to set up a recording studio at home. If you have already committed to a project, it is best to book a studio to complete your work on time.
Do you want to book a studio?
Contact a recording studio your nearby to find one today.
Wrapping Up,
It is undoubtedly a challenging job to become the voice for a commercial advertisement, documentary, animation character, or any other form of project. But at the same time, this form of job is highly rewarding full of excitement and joy.
Are you a voice-over artist?
Please feel free to get in touch and submit a sample recording of your voice today.
Pages: